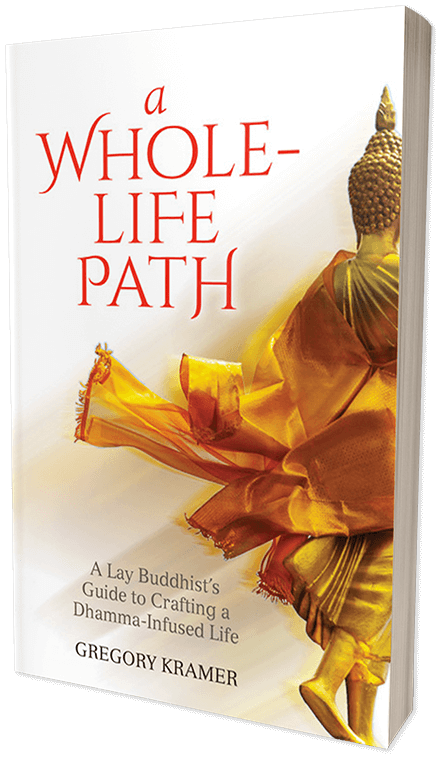 A Whole-Life Path
A Lay BuddHist's Guide to Crafting a Dhamma-Infused Life
"This remarkable book offers a perspective on the Buddha's Noble Eightfold Path that is at once solidly rooted in the canonical texts of early Buddhism, yet astutely attuned to the needs of contemporary readers seeking to navigate our frantic, directionless culture."
— Bhikkhu Bodhi, Buddhist scholar and translator 
"…offers laypeople a brilliant and practical guide for bringing Buddhist wisdom alive in our relationships, work and through each moment of the day. Reading this book will help you realign with what matters most to your heart."
— Tara Brach, author of Radical Compassion
"Gregory's unique perspective…combines an impressive breadth of application to our lives in the world with a profound understanding of practices leading to the highest peace. This work is worthy of careful study as we investigate the causes of suffering and the possibilities of freedom."
—Joseph Goldstein, author of Mindfulness: A Practical Guide to Awakening
Many lay Buddhists struggle to carry the benefits of their studies and meditation practice into their twenty-first-century lives. How might our daily experience of both life and the Buddha's teachings shift if there were no separation between them?
In A Whole-Life Path, Gregory Kramer invites us to see the noise, complexity, and challenges of today's world as doorways to fully embodied Dhamma wisdom. Drawing on decades of meditation, study, and teaching, he explores the essence of each factor of the Buddha's Noble Eightfold Path. He then looks at modern life with fresh eyes, calling out the myriad opportunities it offers to put all the Buddha's teachings into practice—individually, relationally, and socially. More than 50 experiential practices allow us to test his guidance—right here, right now.
Anywhere the Buddha's teaching meets our unique life circumstances, our whole-life path is born anew. With A Whole-Life Path as a starting point and touchstone, our lives and our spiritual path can become one.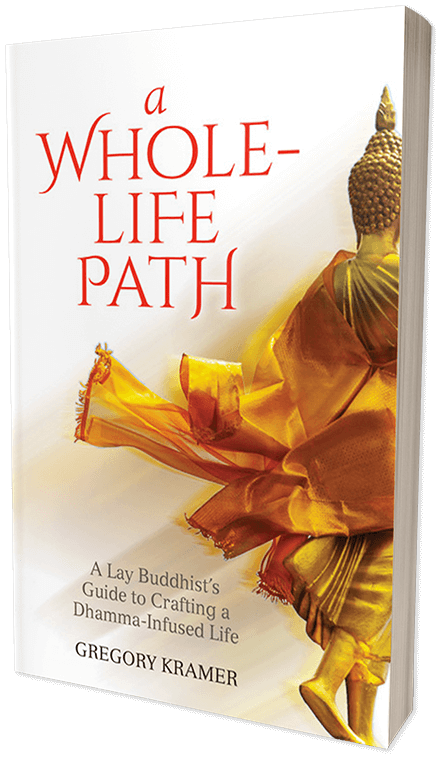 Praise for A Whole-Life Path
Gregory Kramer's new book is [a] peerless translation of the Buddha's original teachings into wisdom for . . . every aspect of our everyday, lived experiences—including the roughest edges of our ordinary lives. It just may be the perfect companion for deepening the practices we call mindfulness.
— Rhonda V. Magee, author of The Inner Work of Racial Justice
A Whole-Life Path offers a vital and timely validation that 'our entire life is our field of practice.' . . . [A] masterful contribution for all seeking an integrated approach, which invites direct personal inquiry, leading to an authentic, insightful, heart-full, and meaningful life.
— Thanissara, Buddhist teacher; author of Time to Stand Up
It was wonderful how Gregory would connect these precious teachings to the challenges we are experiencing in this day and age—individual and social injustices, unconscious biases, and a need for greater compassion, including for the earth itself. 
— Kamala Masters, co-founder, Maui Dharma Sanctuary (USA); guiding teacher, Insight Meditation Society (USA)
Whole-Life Path Talks and Writing
A Relational Dhamma
Sangha Live, October 17, 2021
A Wonderful and Workable Whole-Life Path
Meditation Center Beatenberg, June 1, 2021
Episode 34 – Gregory Kramer: A Whole-Life Path
Mindful Cranks podcast with Ron Purser, April 3, 2021
77. IBP: Gregory Kramer on Practice
Imperfect Buddha podcast with Matthew O'Connell, Feb. 8, 2021
"A Whole-Life Path" a fresh exploration of the 8-Fold Path
Insight Meditation Community of Berkeley, December 10, 2020
A Whole-Life Path
Active Pause podcast, December 2020
IMS Bookclub Meeting 3: A Whole-Life Path
Insight Meditation Society, November 24, 2020
IMS Bookclub Meeting 2: A Whole-Life Path
Insight Meditation Society, November 17, 2020
IMS Bookclub Meeting 1: A Whole-Life Path
Access code: 20Book11
Insight Meditation Society, November 10, 2020
Gregory Kramer Sharing and Q& A
Hong Kong Insight Meditation Society (HKIMS), October 25, 2020

A Whole-Life Path: A Layperson's Immersive Approach to the Noble Eightfold Path
Insight Journal, 2019